Christine, the mother of the bride, says that her daughter Sadie Marie's wedding to Cody was everything they dreamed of. Sadie Marie and Cody had known each other for about nine years and had been engaged for three—but waited to tie the knot until they were about done with their post-secondary studies. "This was important for Sadie Marie and Cody. They wanted the time to be right as they worked toward their hopes and dreams." They officially started on life's path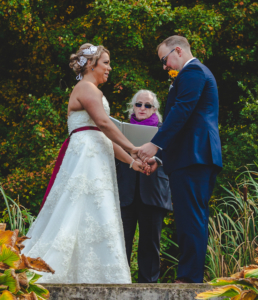 together as a married couple in October.
Both the bride and groom call the Niagara area home. Although Sadie Marie attended Niagara University in the US, her mom is on our side of the border, and Cody at Niagara College in Canada. Choosing a wedding destination that was enchanting, close by, and easy to reach for family and friends was important. The Cave Spring Vineyard and Inn on the Twenty in Jordan, one of the jewels of Niagara wine country, provided the perfect setting.
Equally as important, says Christine, was a personalized and personable wedding. This is why they chose Rabbi David Gellman, whom they have known quite a long time, to be the officiant.
"We've experienced very sad losses recently on both sides of the family. David understood our feelings and was able to bring a warmth and inclusiveness to the ceremony that brought in everyone. These were personal touches and memories—including those who were able to be present and those we were all missing. He performed a ceremony that was warm and delightful and also pulled at the heartstrings. David also enlisted family members as part of the ceremony and made sure that nobody, whether they were at the wedding or only in our hearts, was left out."
David included items to highlight fond memories for the bride and groom and families. This included a hand-crafted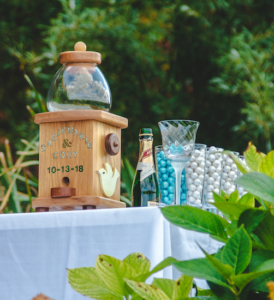 gumball machine made by the bride's maternal grandfather.  The "Unity Gumball Machine" was viewed as similar to a Unity Candle. "This was a unique element for a wedding ceremony, and was lighthearted but created many tender moments. Instead of lighting unity candles, Sadie Marie and Cody poured blue and white gumballs into the 'Unity Gumball Machine'. We were all touched and connected by this. David's ability to involve everyone and bring those we had lost and missed so much into the ceremony takes a very unique skill and was moving for all of us."
Wedding Vows
David also built in the seven blessings, which are a traditional part of Jewish wedding ceremonies. Members of the wedding group, including Sadie Marie's sisters and parents, and Cody's parents and brother, participated in giving blessings. Another area where David was able to assist the bridal couple in the lead up to the wedding was guidance in composing their vows. "These were beautiful," says Sadie Marie's mom Christine.
Everything also went perfectly with the wedding arrangements at Cave Spring Vineyard and the Inn on the Twenty. The couple opted to be married outside even though it was October. It was a little nippier than they had hoped, but the sun shone through the ceremony.  A limo was on call to carry the bridal party and guests to and from the Inn to the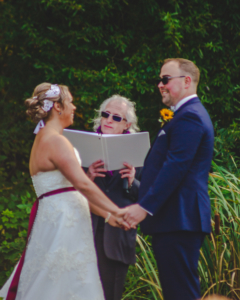 vineyard.
The Inn on the Twenty in Jordan has a reputation for outstanding dining showcasing the bounty of Niagara. With Cave Spring Vineyard, it is known for hosting charming and elegant wedding celebrations. "We had about 100 guests at the wedding, and everything was managed beautifully. I couldn't recommend the Inn on the Twenty and Cave Spring Vineyards more highly," says Christine.
The happy couple took a delayed honeymoon on a cruise in the Mediterranean—waiting until their school years were done and they were in job search (and interview!) mode before they took a break. They have recently returned, ready for the joys of married life and with fond memories of their wonderful wedding day in the Vineyard!
http://rabbidavidgellman.com/wp-content/uploads/2019/08/rabbiandsadiecodyposed-1.jpg
895
1990
Rabbi David
http://rabbidavidgellman.com/wp-content/uploads/2018/11/logo-trans-1.png
Rabbi David
2019-08-12 19:39:26
2019-08-12 20:27:09
A Wonderful Wedding in the Vineyard