Izzy is the most precious gift, says mom Susan. And after such a challenging journey, Susan and her husband Edgar knew they wanted to celebrate the birth and naming of their daughter in a very special way that would stay with them always.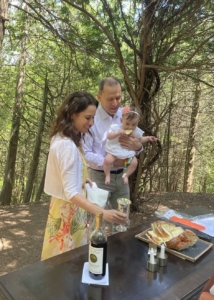 "We wanted Rabbi David Gellman to perform the baby-naming ceremony because we knew he would make the occasion unique and memorable," says Susan. "And he did.  A traditional baby-naming service for girls in a synagogue is generally fairly brief and quick. We wanted to celebrate and welcome Izzy with a ceremony that would have a lot of meaning for us and be truly out of the ordinary."
Susan and Edgar, who call the beautiful area of north Toronto near Avenue Road home, knew Rabbi Gellman would
create a ceremony to remember. He had officiated at their wedding on August 18, 2019, in the lovely surroundings of Sunnybrook Estates off Toronto's Bayview Avenue. The beautiful ceremony fulfilled all expectations. "Everyone had a wonderful time, and the Rabbi's attention and approach made it especially memorable." The wedding was pre-pandemic before most people had any cause to even think about Covid health regulations, so there were no constraints, and the bridal couple could celebrate with loved ones and friends exactly as they'd hoped.
They were able to do the same at the baby naming for Izzy, which was held in the delightful surroundings on the farm of a family friend in Uxbridge. The ceremony was in June when the weather was terrific, and their friend set up a tented area in the woods on the property that was shaded, comfortable, and big enough for all the family and friends.
The ceremony and celebrations with family and friends took place in the afternoon from 12-3 with refreshments and a little party atmosphere. Not that Izzy noticed, said her mom. She was only seven-months old, so she slept for half the time, but it was truly special and a lovely memory to treasure.
Izzy: a name of Hebrew origin, meaning God's Promise.
http://rabbidavidgellman.com/wp-content/uploads/2022/09/Edgar-Susan-and-Izzy-copy.jpg
505
632
Rabbi David
http://rabbidavidgellman.com/wp-content/uploads/2018/11/logo-trans-1.png
Rabbi David
2023-01-02 20:05:33
2023-06-02 16:50:45
God's Promise