More and more marriages are putting it in writing—and it's not only Jewish wedding couples who are adopting the Ketubah as part of their wedding ceremony, a tradition that dates back thousands of years.
One of the largest suppliers is Ketubah.com—a trendsetter in design and online service well-known internationally for museum quality work, was founded originally here in Toronto by Michael Shapiro and reports that Ketubahs are being ordered for all faith weddings as well as to mark significant days. Ketubahs also commemorate milestone occasions such as anniversaries.
Wedding couples are able to order from hundreds of unique designs from classic to modern to suit every budget and timeline. Many parents also like to purchase the Ketubah as a gift. Since it is often viewed as a precious family heirloom and passed between generations, the style, look, and wording are significant decisions.
Choose from an extensive range of limited-edition artist creations that can be personalized and customized—from wording to colors to the craftwork involved. This may be beaded, canvas, gold or silver leaf, crystal work, luminous—the variety is limitless.
Lovely paper cut Ketubahs, considered a traditional Jewish fine art since the Middle Ages, are also a specialty.  Fine art archival paper cut Ketubahs can include your personal details incorporated into the design—which can involve 18 layers of paper cuts!
Once you've found your style, you'll need to decide colors, theme, language, and the amount of personalization. This is when you'll choose whether to include names, wedding date, and location, which are integrated (seamlessly!) in the calligraphy—or the rabbi can write in the names in blank spaces.
You may need to check with your rabbi before you order —you'll be asked to specify text and the company offers many options including Reform/Orthodox/Conservative or Humanistic —also 'Canadian Reform" and LBGTQ.
You can also choose an "Interfaith" selection or write unique words to reflect your beliefs, vows, or that are meaningful to you both.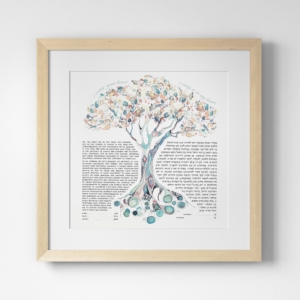 Regardless of which you choose, the Ketubah is often the heart of a Jewish or interfaith wedding. The Ketubah has profound history behind it and is seen as a symbol of the couple's devotion to each other and the marriage.
Traditionally, the Ketubah catalogs the husband's obligations to his wife and establishes provisions for her protection. The traditionaltext closely resembles the one codified 2000 years ago.
Two witnesses sign the Ketubah—friends or distant relatives/close relatives do not sign—and generally consider it an honor to be asked. (The bride and groom don't sign traditionally/it's not the same as signing the register or license in a church wedding. However, there are choices that have lines for the bridal couple to sign if they so choose.
The rabbi may read out the Ketubah under the Chuppah—Jewish tradition is that it is a significant part of the ceremony.
Costs for the Ketubah range from budget friendly—as low as the $150 range—to $1000 and everywhere in between. However, if it involves a lot of artisan work, such as for crystal creations, gold leaf, or a complex paper cut Ketubah—for example, an 18-layer piece of archival art with all your personal details incorporated—this may set you back even more.
But the finished piece is likely to become of historical importance to your family—and be viewed as a truly unique and original piece of fine art that also happens to commemorate your wonderful marriage!
To see more examples, see www.Ketubah.com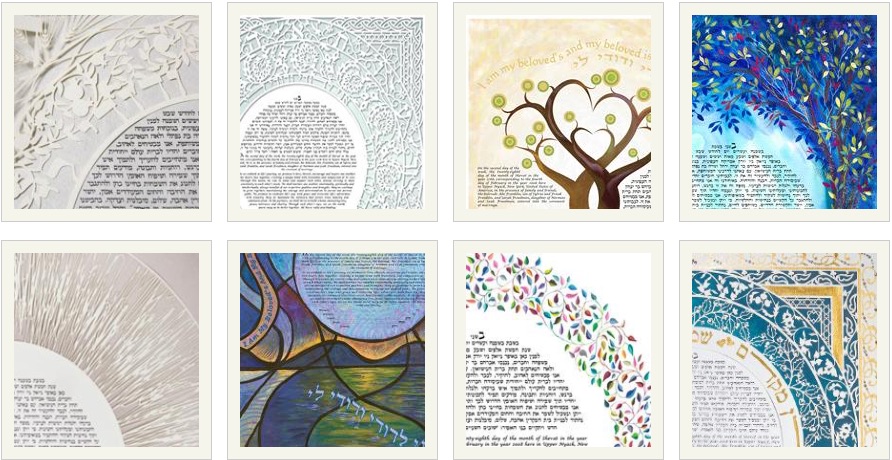 http://rabbidavidgellman.com/wp-content/uploads/2020/03/order-ruth-mergi-papercuts-verve-papercut-blue-blue-ketubah-jewish-marriage-contracts-2.jpg
3996
3996
Rabbi David
http://rabbidavidgellman.com/wp-content/uploads/2018/11/logo-trans-1.png
Rabbi David
2023-02-14 14:30:17
2023-08-22 09:07:08
The Ketubah Story