Katrina and Dannel had a wonderful time at both of their weddings—they celebrated their marriage ceremony twice in one day, which only made the day more special, says Katrina.
And after scheduling the ceremony three times —and having to postpone it in 2020 and 2021 due to pandemic restrictions and all that this involved, they were joyful at finally being able to proceed with their marriage with friends, family, and dear loved ones in attendance. They came from near and far—with Katrina's family mainly in Ontario and Dannel's family in Panama, from where he had moved to Toronto in 2015—their wedding day in the GTA was everything they imagined, with most guests able to make it to both ceremonies!
Katrina and Dannel wanted to honor both beliefs and cultures and were pleased to be able to finally do so on August 27,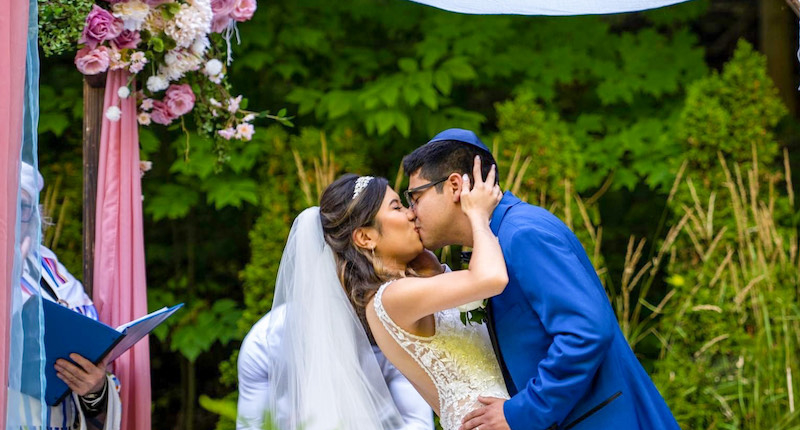 2022.
"We were fortunate to be able to arrange everything as we wanted and to have everyone—many traveling across the continent—to reunite with us for the weddings—this made our day extra special."
The first ceremony took place at 1 p.m. at the Guardian Angels in Brampton, with the entourage, family, and friends in attendance to celebrate the Catholic ceremony. It was a beautiful way to celebrate the first part of their wedding day, says Katrina.
Later on the same day, for 5 p.m., almost all the guests made their way to Toronto and gathered again at the charming Fantasy Farms venue on Pottery Road, off Bayview Avenue, for their Jewish Interfaith ceremony.
"This was conducted by Rabbi David Gellman and exceeded all our expectations." After the ceremony, they capped off the day with a beautiful party at Fantasy Farms and celebrated with the traditional first dance, speeches, delicious food, and all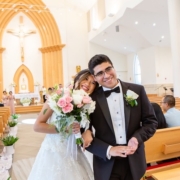 that goes with it.
"We were so happy that parents and siblings could be there from both of our families and that Dannel's close relatives traveled to join us from Panama City. "So we had advice, blessings, and good wishes from our parents and relatives on both sides."
The happy couple first met when they were both working in technology in the financial sector—they used to work together, but now Dannel is a Technology Consultant in CIBC and Katrina is a Senior Manager in RBC.
But they have plans to spend lots of time together as they settle into a happily married life. They plan to go on a honeymoon now that things are opening up again—perhaps next year, but are quite content that, with all the pandemic uncertainty behind them, they will always be able to celebrate their "double wedding" day and that it was such a spectacular one to remember.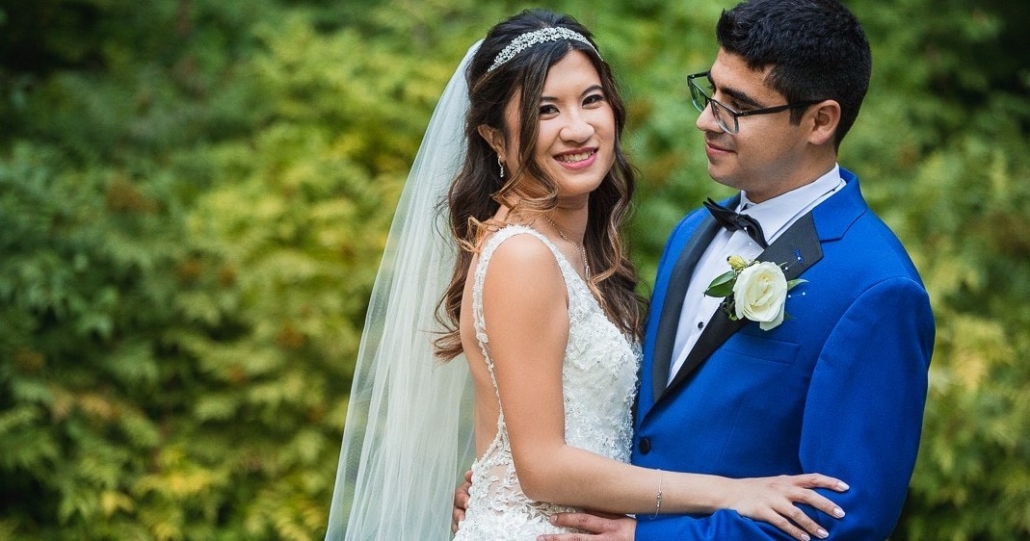 http://rabbidavidgellman.com/wp-content/uploads/2022/12/IMG_6115-with-the-Rabbi-2-1-scaled.jpg
1049
2560
Rabbi David
http://rabbidavidgellman.com/wp-content/uploads/2018/11/logo-trans-1.png
Rabbi David
2023-03-23 10:29:04
2023-08-22 09:06:57
Two Ceremonies to Celebrate— A "Double Wedding"