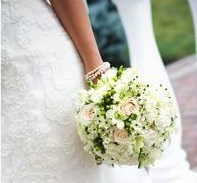 What you need to know:
Before the Wedding # 1—
If you're planning a wedding, the best advice is to first choose the officiant and the location—so you have the date, time, and place of this great event in your lives secured.
Then you'll likely be thinking of your wedding gown, and where to hold and how to plan the reception, how many guests and what and when to serve, and then you'll probably wonder about dancing and entertainment, photographers and videographers.. You'll be careful to ensure that you not only have all the arrangements made to your satisfaction—but that you have the best possible suppliers—from venue to the limousine to the hairstylist—so that everything is perfect, on time, and done with the least stress to everyone concerned.
Obtaining referrals for all elements, whether it's catering or bouquets that you're looking at—and reading reviews, testimonials, and references—is an essential safety measure.
Unexpected Wedding Events
There are many moving parts to a wedding and if couples are working and busy with family and other commitments—a wedding ceremony can involve a ton of unexpected elements and decision making to juggle and manage.
Hiring a wedding planner is often the ideal solution, especially if you're looking at more than a simple ceremony with a limited guest list. The Rabbi has officiated at weddings with planners and without—and is able to offer guidance to simplify and make it easier on you, either way.
Note: Rabbi David Gellman is happy to provide names if you need them to give you options and point you in the right direction. (Please see Wedding Vendors & Venues or call us and ask).  Most reputable suppliers have networks of contacts they know and trust and it takes the worry off you.
Wedding Costs in Ontario
Since one of the starting points for wedding planning is budget, here is a reference breakdown of average wedding costs in Ontario/circa 2019—*
The average cost of a wedding is $30,717.
The average cost of a wedding venue is $11,046. The average cost
of a wedding DJ is $1,442.
The average cost for catering is $63 per guest.
The average cost for a wedding cake is $353.
Multiple tiers, decorations, and fillings can be more expensive.
The average cost of wedding favors is $262.
The average cost for independent catering is $8,178.
The average cost of bridal party gifts is $253
* These are average costs/taking into account big and small weddings and associated events.  It may be key to note that 31% of couples said they exceeded their wedding budget!
MORE TO COME—STAY TUNED FOR OUR SERIES ON WEDDING PLANNING DO'S AND DON'T'S
http://rabbidavidgellman.com/wp-content/uploads/2019/05/brideandflowers.jpg
183
197
Rabbi David
http://rabbidavidgellman.com/wp-content/uploads/2018/11/logo-trans-1.png
Rabbi David
2021-07-22 11:57:42
2023-08-22 09:08:31
Wedding Planning 101-Before Your Day