Celebrating with Love and Laughter—
Fun and lots of laughs were what they hoped for, asked for, and how they celebrated at their fall wedding, says Karianne Marten-Spagnuolo, who married  her husband Adam on September 29,, 2020, in Etobicoke, a suburb of Toronto.
The fact that the ceremony took place at home had not been part of the original plan, says Karianne (usually known as Kari).  They had scheduled a big destination wedding in the beautiful resort area of Cabo San Lucas, in Baja California (Mexico).
But they had no idea that a pandemic would intervene to change their plans. Faced with uncertainty and delay, Kari said they decided to go with a different plan. "We wanted to be married!"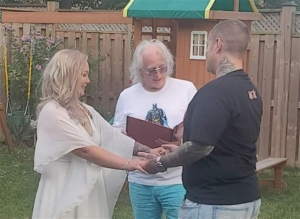 "We wanted to hold a special wedding ceremony to celebrate our love with as many friends and family as we could. The numbers were restricted due to the pandemic, but the ceremony at home was wonderful."
The ceremony took place  in the backyard on a lovely sunny Tuesday that turned into a perfect evening for a wedding.
When the bridal couple booked their destination wedding, they had planned to tie the knot with about 50 guests present  "So it was hard that we had to limit our guests and to downsize the guest list to meet Covid regulations,  We were very sorry that we couldn't include everyone we had hoped to celebrate with us.
"After much hard work, we'd managed to include 30 close family and friends, although it was supposed to be 25. But as it turned out, five guests were unable to make it for scheduling or other reasons, so we ended up with just the right number. 25! We were so glad to see everyone come to the ceremony."
The wedding was quite unique. "We actually wanted a service that was based on love, happiness, and energy," says Kari, "and David, who is my husband's best man's neighbor, was able to create the perfect ceremony for us."
"We had requested and talked about our ideas for a fun and memorable ceremony, and David absolutely made this a reality," says Kari. "He had us in stitches."
Everything about the wedding was unique—including the dress code. Adam is a big fan of DC and Marvel comics, so while the bride went traditional and wore a lovely white short dress for the at home ceremony, the groom wore a T-shirt —and so did the officiant. David stuck to the dress code and wore a Batman T-shirt."
Many of the guests dressed with this in mind, too, showing their superhero or character favorites… although Kari said the female guests tended to dress up (as you love to do for a wedding!), while most of the guys went for the casual or comic theme, in character-full T's.
Kari says that David gave a lot of thought to the ceremony and was able to incorporate not only the humor they had asked for, but key family members, including Adam's grandparents, in the ceremony.  "And it was very nice that we were also able to give a nod to our lost loved ones, whose presence was very absent and missed by everyone."
Adam and Kari celebrated the nuptials with a party at home following the ceremony and then a short honeymoon in Ottawa.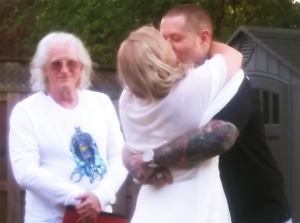 The bridal couple, who have known each other for about 15 years, also plan to celebrate their five-year 'dating' anniversary this coming New Year, says Kari. (Kari and Adam's sister were friends first, growing up in Etobicoke.)
In the meantime, says Kari, "Things are pretty good. While wedding plans were affected by the pandemic, our work lives haven't changed too much." Kari works in early childhood education/child care and this has continued and Adam keeps busy with his work as a plumber.
On the horizon, especially with possible vaccines coming and looking ahead to when life opens up again for travellers, Kari says they might be able to dust off their plans and make that delayed visit to Cabo. "We had already booked, but it was all put on hold. Like most in this situation, we could reschedule but not obtain refunds. Once things are go again, we'll probably be off to Mexico." Guests who had pre-booked have the same options to reschedule. "So there's a good chance we'll hold another big wedding celebration—in the beautiful surroundings of Baja California."
"But we're so glad we tied the knot here and got married officially. Despite all that we've faced this year, it was a wonderful wedding ceremony full of good times, lots of laughs, and great memories—and we'll remember it always." —
http://rabbidavidgellman.com/wp-content/uploads/2020/12/AdamandKariswedding-scaled.jpg
1490
2560
Rabbi David
http://rabbidavidgellman.com/wp-content/uploads/2018/11/logo-trans-1.png
Rabbi David
2021-01-07 09:35:12
2021-01-15 15:48:01
Our Backyard Wedding—