Recent reports on how a few Israeli couples were getting married remotely in Utah to bypass local regulations made headlines and prompted questions about whether Zoom or Facetime weddings are legal.
That depends. Weddings where the officiant or at least two witnesses are not present in person "on location" may not stand the legality test. To comply with Ontario laws, it's not yet feasible to conduct entirely virtual ceremonies without the officiant present.  It may be different in your province or state.
Instead, many couples decide to hold a small virtual-ish wedding—connecting everyone who would have been on the guest list via Zoom or Facebook or sharing the video after.
So a number of weddings are proceeding almost to plan. It's merely that the plan now includes delaying the celebration until everything opens up or their first anniversary, whichever comes first.
This isn't ideal, and it may not be exactly the wedding of your dreams. But it gives a way forward for couples who don't want to wait to tie the knot until the pandemic is in the rearview mirror.
The Rabbi has conducted a number of smaller weddings (Jewish -Interfaith and non-denominational) in a variety of locations and venues during the slowdowns and lockdowns.
Couples have chosen smaller groups to meet regulations for both outside and inside ceremonies. Outside, with such spectacular surroundings available, it's added a certain specialness to the ceremony. The Rabbi has officiated at ceremonies in the lovely gardens at Sunnybrook Estates in Toronto, for example, where the scenery and the behind the scene effort at the venue ensures that the wedding is perfect.
Stacey and Gianni married in a beautiful spot in Muskoka where the landscape almost felt like a guest at the wedding.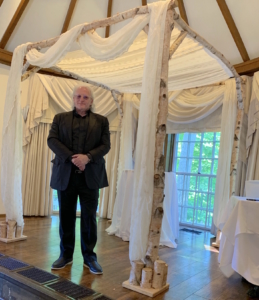 Karianne and Adam enjoyed a lovely fall wedding in their backyard with as many friends and family as were allowed to celebrate.
Holding a wedding outdoors doesn't mean masks and social distancing won't be necessary —and smaller weddings inside may have special protective measures in place, subject to venue size and regulations at the time.
But even if it's a small intimate group, the Rabbi (and Alex) work closely with the couple and family to be sure that all wishes are met and that the ceremony is a memory to treasure.
Since nobody knows when the current situation will end, and with travel and quarantine restrictions subject to change moment by moment, many couples are deciding to go ahead and hold a smaller wedding.
Sometimes it's family expectations that are the roadblock—parents may have envisaged a large amazing wedding for their child, perhaps with guests flying in from around the world or across the country.
However, the intimacy of the smaller ceremony can make for a warm and memorable experience.
With pandemic restrictions and requirements on gathering sizes likely to last a while longer, and if you're not ready to put your married life on hold, it's a good idea to start planning ASAP. Popular venues (inside and out) get booked up fast. And if you're going to connect via Zoom or otherwise, asking a wedding planner to help will simplify the day and make sure you're not distracted by technology. (Wedding planner/Melissa Baum)
Check the Ontario website here or your local municipality—or your state/province for numbers and requirements, or contact us.
When the situation improves, and life feels like it can get back to normal will be a good time to hold the party of the century —whether you're celebrating your wedding or simply with your friends and loved ones. What a party that will be!
Link to Israeli couples and virtual weddings in Utah
http://rabbidavidgellman.com/wp-content/uploads/2019/10/tulips2.jpg
150
530
Rabbi David
http://rabbidavidgellman.com/wp-content/uploads/2018/11/logo-trans-1.png
Rabbi David
2023-03-09 14:25:53
2023-06-02 16:47:13
Are Zoom Weddings Legal?