GATHERING LIMITS CHANGE FOR ONTARIO WEDDING CEREMONIES & VACCINE PASSPORTS
With the move to Step 3 in Ontario on July 16, it seems like we're on the way back to normal. Although events, gatherings, and celebrations still face restrictions, this move gives encouragement to couples planning to get married that they can take their plans off hold.
It also marks a return to busy schedules for the many venues and suppliers of wedding-related services from caterers to stylists, photographers, and videographers. For couples, the chance to gather more of your friends and loved ones close to celebrate your dream wedding—or nearly, considering we're not quite out of the woods yet—feels almost like New Year's in July.
What does the change to Step 3 mean for wedding planning? Times are still somewhat uncertain, and subject to change by the province if Covid conditions or rates alter. It's a good idea to hire a wedding planner, who will be up to date on all the changing rules and regulations and able to guide and advise.
But for the moment, happy couples can begin to plan for friends and family to share their happy event—providing health requirements are met. For the actual ceremony, the main requirement in Step 3 for indoor and outdoor ceremonies is a limit on capacity. Gathering limits must ensure physical distancing of 2 metres is possible.
For restaurant-type venues, both indoor and outdoor dining are now permitted. Capacity is limited to permit physical distancing of 2 metres and other restrictions. There are no limits on the number of people per table, and buffets are allowed.
For typical larger venue locations, such as banquet halls and event or ballrooms, indoor capacity is limited to the number of people who can maintain a physical distance of two metres, with a maximum capacity of 25% indoors or 250 people (whichever is less). Outdoor capacity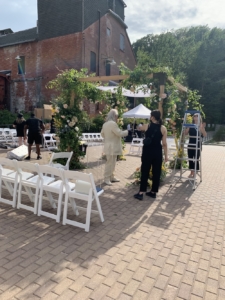 limited to 75% and other restrictions.
Standard limits for regular social get-togethers and gatherings are 25 indoors and 100 outdoors.
What Step 3 means—from the Ontario government's media release:
Indoor religious services, rites or ceremonies, including wedding services and funeral services permitted with physical distancing;
Indoor dining permitted with no limits on the number of patrons per table with physical distancing and other restrictions still in effect;
Indoor food or drink establishments where dance facilities are provided permitted up to 25 per cent capacity or up to a maximum limit of 250 people (whichever is less).
As more information becomes available, we will post it here.
For information on large venue/ event spaces and other location/gathering requirements connected with Ontario's reopening, please see the official Ontario reopening website.
VACCINE PASSPORTS AND WEDDINGS IN ONTARIO:
With the announcement of vaccine passports being required in Ontario for certain locations and events, everyone will have to show their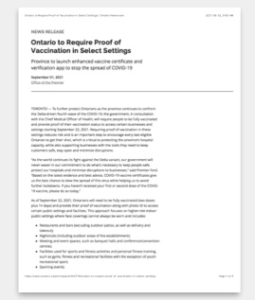 current vaccine receipts and photo i.d. or a digital record (QR) when this is available for weddings.  However, Ontario has announced an alternative measure to accommodate weddings and help with guest lists already planned. Between September 22 and October 12, 2021, individuals will also be able to show the results of a rapid antigen test (these are privately purchased/to be completed within 48 hours prior to the event) as an alternative to proof of vaccination when attending weddings. These requirements do not apply to outdoor settings.  (more/government website)
Feature photo—Thank you to Tara Winstead, Pexels
http://rabbidavidgellman.com/wp-content/uploads/2021/07/HRweddingpexels-tara-winstead-6479598-copy-3.jpg
1453
1987
Rabbi David
http://rabbidavidgellman.com/wp-content/uploads/2018/11/logo-trans-1.png
Rabbi David
2021-08-20 09:39:38
2021-11-04 11:45:18
Ontario moves to Step 3 —weddings and ceremonies