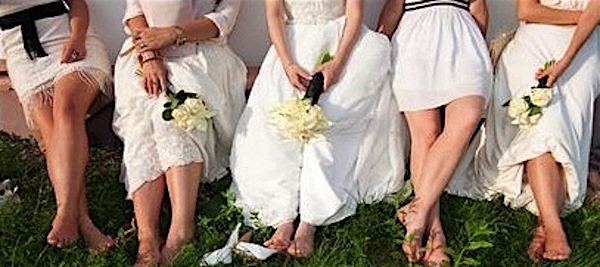 You may feel you have the date, you've booked the Rabbi, and you're ready… However, as almost any wedding planner will tell you, that may be when things start to go awry.
Your wedding ceremony will stay in your memory as one of the most important days of your life (and probably the most astonishing so far!). It's essential that the ceremony lives up to your dreams and hopes.
IS THERE FAMILY CONFLICT OVER YOUR WEDDING?
"Sometimes family attitudes and judgments or their expectations of your wedding may get in the way," says Rabbi David Gellman. "We're very pleased to be of service, so this doesn't happen. We will work with you to incorporate the rituals and customs you would like to include from any faith or background, and that may be important to both sides of the family. Every wedding ceremony is individually created for the couple with observances dear to you both."
PLANNING AN INTERFAITH WEDDING
Initially, the two partners to be married may feel somewhat overwhelmed with how to plan the perfect ceremony. How do you include Jewish and non-Jewish traditions and customs, or highlight elements that may be significant to you both or to your respective families?
"Through our personal experience, Alexandra and I know both the challenges and joys of a ceremony that's inclusive, sensitive, and meaningful to everyone. This is why we use a tailored approach to bring couples, families, loved ones, and friends together to share in an ecumenical ceremony that respects your past, enshrines your moment of the day, and collectively puts faith in your future as a loving couple."
AVOIDING FAMILY STRESS AT THE WEDDING
Understanding everyone's wishes in advance helps to avoid tensions with extended families that could intrude on the happiness and specialness of your day. Your ceremony will be written for you individually. It will be customized for you with the rituals and traditions that you choose to honor and reflect both religions. Whether you select only a few traditions or all—these are woven into the ceremony for you.
Often, some simple guidance is all that is needed to craft a service that will be a dream ceremony for you, your families, and for everyone in attendance. Creating a ceremony that exemplifies the cooperation and love that will be central to the life you envisage together is always the goal, regardless of the starting point. "We find our tailored approach guides us to the perfect solution for our wedding couples and your families."
MINIMIZING FAMILY ANXIETY AT THE WEDDING
So don't feel overwhelmed if various family members sometimes look like they're readying for an argument instead of a marriage.  Minimizing any anxieties for the couple and all interested members of the wedding party—and ensuring your wonderful precious memories of the ceremony of your dreams—sometimes takes just a little extra timely understanding, planning, and creativity.
Note: We are happy to meet with you and your family members beforehand for marriage and couple guidance counselling to help create a happy and healthy supportive framework for your life together based on love, respect, and trust.
http://rabbidavidgellman.com/wp-content/uploads/2019/07/weddings-relaxing.jpg
267
600
Rabbi David
http://rabbidavidgellman.com/wp-content/uploads/2018/11/logo-trans-1.png
Rabbi David
2023-10-06 13:45:33
2023-11-09 10:33:22
Families and Weddings